Retailers: Here's how to increase your in-store traffic
Inflation, lower purchasing power, and the health crisis are just a few factors impacting the number of visits to physical stores. The PROCOS federation (For The Promotion Of Specialized Trade) has alerted retailers of an estimated 28.8% drop in in-store visits in 2022 compared to 20191, and, as a result, in-store modifications are on the rise. According to Raffatin, "consumers are moving less, but better. Their visits are becoming rarer, but they are often motivated by real purchasing intentions". This change in behavior results in an essential need to understand the motivations and obstacles of your non-visitors. We'll outline the challenges of physical points of sale, the concept of a catchment area, and our advice to increase your traffic.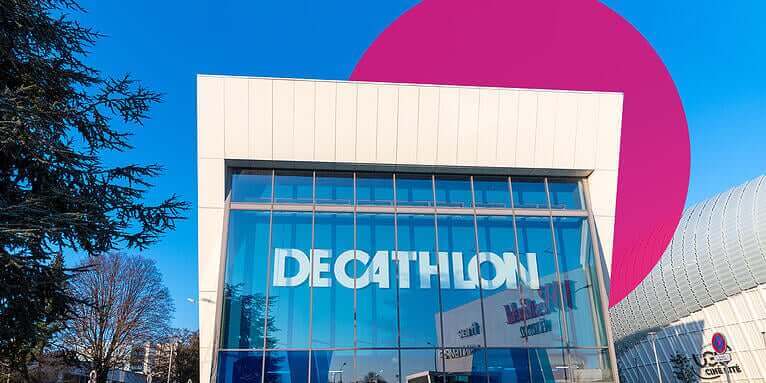 Bertrand Raffatin, Retail Supplier DOMYOS at Decathlon France

With nine years of experience in the retail sector, Bertrand Raffatin first joined Decathlon in September 2010 as a Department Manager in Dijon. He then took on the role of Operations Manager before becoming a Store Manager. His multidisciplinary profile led him to a job with the Retail Supplier DOMYOS in Lille in 2019; takin on a position with responsibilities that include inventory management and portfolio purchasing.
Physical stores versus e-commerce
While the e-commerce sector (products and services) has grown by 10% in one year to reach 35.7 billion euros in Q2 20222, physical retail outlets are struggling to re-attract their former customers. The various waves of telecommuting have had a significant impact on the geography of flows. More and more people work from home one or more times a week, and the more consumers are at home, the less they are shopping at your store!
In Raffatin's opinion, the dip in physical store frequentation is also impacted by the current economic situation:
"The rise in energy prices has a severe impact on travel and, as a result, on the dynamics of catchment areas outside of city centers. Gas prices are at record levels, and consumers are much more reluctant to drive to make purchases."
According to a survey conducted by CSR Research for Cofidis, the decrease in purchasing power has become the primary concern for the French in 20223, after it had been health in 2021 (Covid). Fifty-four percent of respondents consider it their biggest concern (compared to 32% in 2021), and even though all social categories share this concern, modest households seem to be the most affected (63%).
Meanwhile, 56% of young urban dwellers, students, or working people (18-34 years old) use their cars occasionally or less than usual4, which drops to less than 45% for older generations. Soft mobility (i.e., cycling, walking) is gaining popularity thanks to its economic attractiveness and low environmental impact.
In short, these changes in consumer habits and the current economic climate are leading retailers to redouble their efforts to increase in-store traffic.
But how do you know where to focus your efforts to support your store's growth?
First, it is necessary to have a clear vision of the strengths and weaknesses of your store. To do this, you need to:
Determine the quality of your point of sale (differentiating physical experience, quality of reception, cleanliness, digitalization, layout, additional services such as parking, etc.)
For Raffatin, the differentiating element of physical retail outlets is the human touch:
"It is a fundamental retail element, and digital cannot compete with it. In a world where the buying process is omnichannel, you have to optimize the in-store experience, maximize the quality of your welcome and turn your salespeople into personal shoppers to offer your visitors a personalized experience they will remember."
Measure your commercial attractiveness (exclusivity of the offer, existing and desired stores in the catchment area)
Your commercial attractiveness depends on the expectations of the consumers in your vicinity and the exclusivity of your offer. Are you the only one to offer this product or service in your catchment area? If so, then your traffic will be more secure and sustainable. According to DOMYOS, this exclusivity protects you from different variables. Ideally, focus your efforts on consumable products in such a way that you ensure recurring traffic.
Understand the perception of customers and non-customers on the level of your offer (marketing strength, price levels, etc.)
Is your marketing strategy in line with your offer and the reality of the market? Are you using the proper communication channels and sending calculated messages to the correct targets? Concerning your customers, you can question them via an e-mailing campaign. Regarding your non-customers, carrying out geo-targeted consumer studies is strongly advised.
Define your geographical access (difficulty of access, preferred means of transportation, etc.)
Several criteria must be taken into account when determining your geographic access. First of all, the accessibility to your business: traffic, parking options, public transportation, etc. Then, the evolution of your geographical area: what are the planned commercial establishments and the urban redevelopments to come? Will they impact your traffic or make it more dynamic? To answer these questions, you can rely on local experts such as city hall economic service managers and networks for entrepreneurs.
These four evaluation criteria are essential to increase traffic to your business and maximize your chances of selling. From them, you can identify your real strengths and weaknesses in relation to the competition.
But to understand competitive dynamics, simple assumptions are not enough. It would help if you interviewed visitors and non-visitors to understand their motivations and obstacles. Who are they? Where do they come from? Why do they come, or don't they come anymore? And finally, what is the geographical extent of your attractiveness? This last question is the first question you should ask yourself: what is your catchment area?
Defining your catchment area
The catchment area must be defined when developing a comprehensive strategy to increase your shopping mall's foot traffic. The catchment area is the sphere of influence from which a retail location is most likely to attract customers. Four key factors influence the outline of it:
Attractiveness of the point of sale: if the location has the characteristics of a high-traffic area (i.e., many businesses, public services, etc.), the greater the attraction potential.
Awareness: the more notoriety a store has in geographically distant areas, the higher the chance it will attract faraway visitors.
Competition: if other stores offer similar products, the less likely it is for visitors to travel long distances to come to a specific store.
Distance and accessibility: if a store facilitates fluid transportation to its doors and is easily accessible to the public, it is more likely to attract visitors from farther distances.
These four indicators allow you to determine the penetration rate of your business in a specific geographic area. However, they are not enough to clearly define your catchment area.
There are three types of catchment areas:
Isometric: based on the "direct" distance between two points, as the crow flies

(

the store and a defined location).
Isochronous: the most common, based on the time needed to get to the point of sale (e.g., 10 minutes by car).
Measured: based either on field surveys or on the automated collection of geolocation data from smartphones, which allows us to observe the movements of people who frequent an area (e.g., a neighborhood).
According to Raffatin, the isochronous zone is the most relevant to analyze. Decathlon, for example, has defined its primary, secondary, and tertiary zones using isochronous scales of 10/20/30 minute access.
These three concentric sub-zones are more commonly referred to as the primary, secondary and tertiary zone. For a shopping center, the categories are as follows:
Primary zone (in red below): this is the area where you will reach the majority if your customers.
Secondary zone (in orange below): the attractiveness of your outlet is average here. Your customers or prospects have options that are at least as attractive as your company. You will have to set up an effective communication plan in order to gain market share.
Tertiary zone (in yellow bellow): the attractiveness of your location is low in the tertiary zone. Nevertheless, it is possible that you attract a part of the catchment population.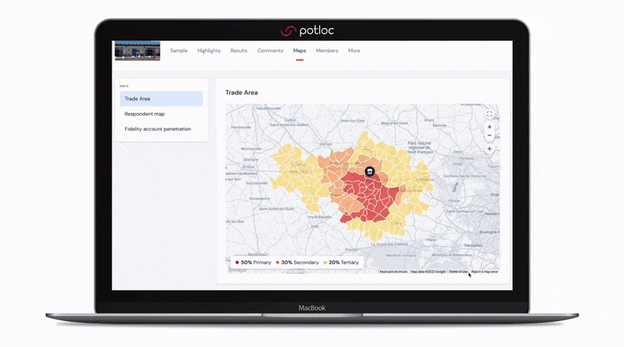 Beyond the tertiary zone, your catchment potential is zero. In other words, it is almost impossible to attract people outside these first three zones.
Does calculating your catchment area still seem abstract to you? Raffatin tells us about the tool (SAD interactive) used to calculate the catchment areas and isochronous zones of Decathlon stores. SAD interactive is a paid tool that allows you to choose your map background and locate your map holders and competitors.
There are also free services such as OwlApps, ArcGIS, or Smappen to perform a simulation of a catchment area. On Smappen, the use is particularly intuitive: indicate your location, then choose the type of zone you are interested in (time, distance, manual or administrative) and cross-reference with the mode of travel (car, walk, bike, truck, etc.). You will get your result in a few seconds. Without registration, Smappen allows you to perform this exercise only once. However, suppose you wish to follow the 10/20/30 model recommended by retailers (primary, secondary, and tertiary isochrone). In that case, you can register and create as many catchment areas as you wish for free.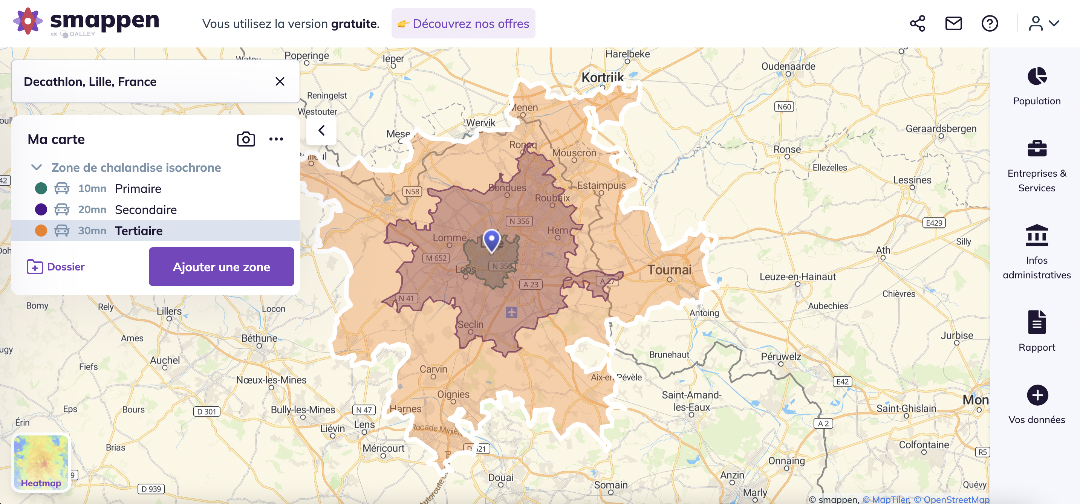 Example of a catchment area according to the isochronous model 10/20/30 min of access by car at Decathlon Lille.
Your catchment area is defined, and you have a precise idea of the extent of your potential catchment. Now it's time for the socio-demographic analysis. Who are your visitors and non-visitors? What are their obstacles and motivations? Do they have certain expectations and perceptions of your business?
Analyzing your visitors and non-visitors
Once the concept of the catchment area is integrated, it is important to draw up a profile of your visitors and non-visitors. A visitor can be a customer, a potential customer or a dropout. A non-visitor is someone who probably doesn't know about your business or doesn't intend to visit it (and this is where it's important to understand why!).
To understand the motivations and obstacles of your visitors and non-visitors in order to adopt an effective drive-to-store strategy, make sure to segment them into several sub-categories according to the following criteria:
Socio-demographic criteria (sex, age, socio-professional classification, place of residence)
Visiting habits (frequency, average basket, motivations, obstacles)
Perception of the point of sale (strengths and weaknesses)
Usage habits (preferred means of transportation, behavior at the point of sale)
This data allows you to draw up typical profiles and derive personas from them. They also represent a real competitive advantage for you. The more visibility you have on the expectations and reluctance of consumers in your catchment area, the more you will be able to adjust your offers and services locally to generate traffic in your outlet.
Raffatin confirms:
"Choosing your offer locally is one of the most important keys to improving your traffic and conversion rate. It's about understanding local people's specific needs and proposing an essential offer according to your geographical position."
Decathlon, for example, doesn't offer the same products and services everywhere. In Pontarlier, you'll find cross-country skiing equipment. In Chamonix, trail and hiking equipment. In Spain, padel, and Belgium, field hockey. It's all a question of local strategy: you have to propose exclusive and common sense offers. In other words, create personalized offers in line with the needs of consumers in your catchment area.
In an environment disrupted by economic and social crises, consumer demand is bound to evolve rapidly. It's more necessary than ever to align your offer with social realities by conducting consumer research. The Decathlon Mantes store, located in the Paris region, experienced a gradual decline in traffic in 2018. To understand this drop in traffic, Decathlon conducted a catchment area study with Potloc from October 18 to November 26, 2018. Five hundred nineteen users of the area, of which 60% were women and 40% men, responded to the survey, on average, in 05:19 minutes.
Decathlon Mantes had hit several objectives:
Identified customer habits (frequency, motivation)
Understood the preferences for physical activity
Evaluated overall customer satisfaction (therefore measure the customer experience)
Measured Net Promoter Score
Evaluated awareness, penetration rate, and satisfaction with the product testing service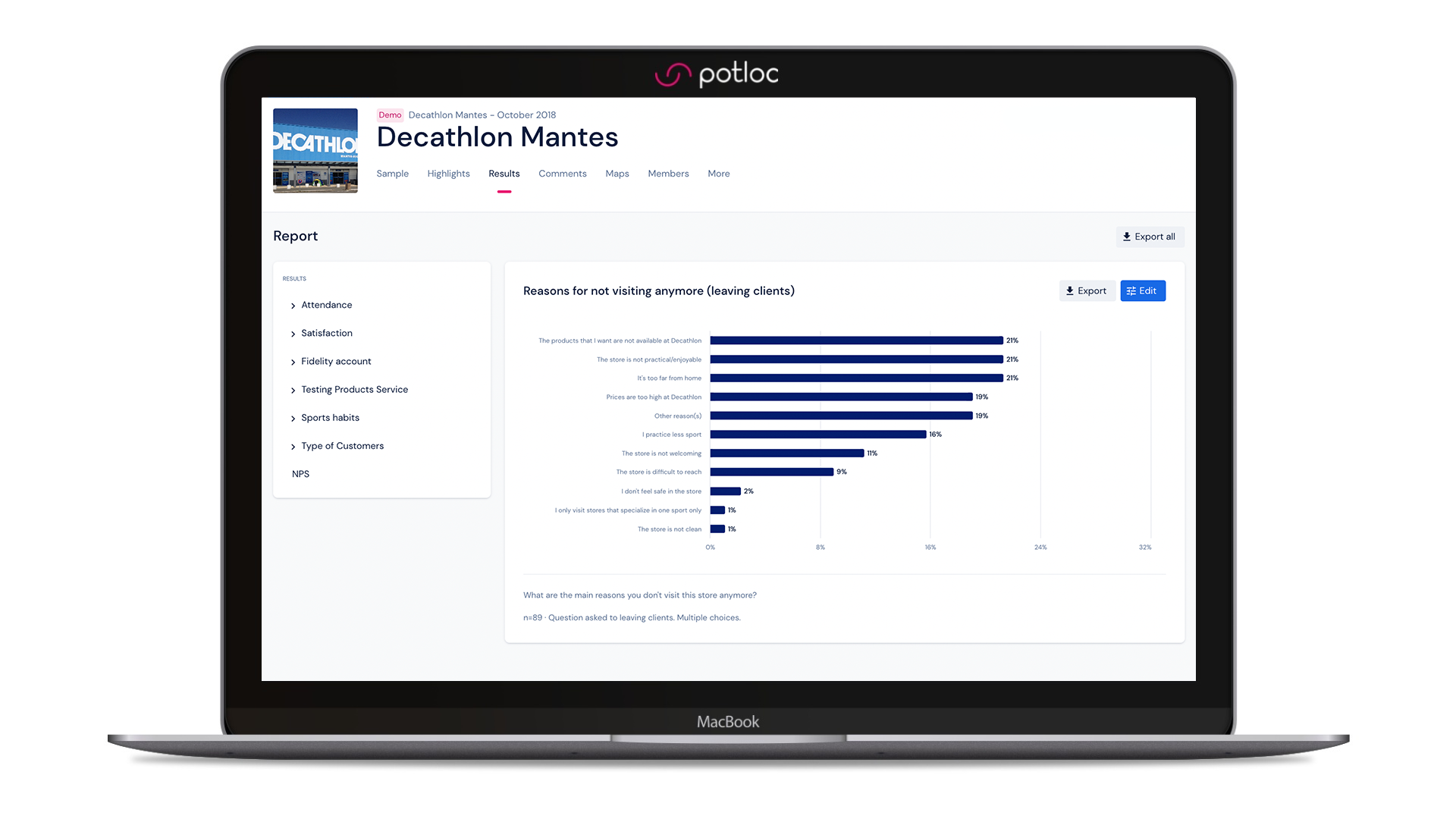 Thanks to Potloc, Decathlon Mantes determined that the three main reasons customers were no longer coming to the store were the lack of desired products, the poor customer experience, and the difficulty of geographic access. For Decathlon Mantes, these answers give them the knowledge they need to offer a better customer experience and adjust their strategy-to-store.
Let's take a look at the second pain point for non-visitors: the customer experience. Certain facilities and services can make a positive difference. For example, digitalizing points of sale ("web-in-store"), such as introducing QR codes, online payments, and Click and Collect, can be an advantage.5 For Bertrand Raffatin, the challenge is to have a seamless strategy between digital and physical services.
"Your business should offer digital services that relate to the physical reality: item availability, pricing, reservation services, 24-hour order pickups, etc."
The idea is to make the customer journey more fluid.
There are often many avenues for improvement, but only consumer studies allow you to understand customer needs in real-time and prioritize your actions accordingly.
Take action by adjusting your strategy
Understanding your visitors and non-visitors is an ongoing process. To optimize your store's traffic, you must understand the challenges of your competitive market and the dynamics of flows. It is strongly advised to conduct consumer research at least every year in the case of a highly competitive catchment area. Not only to study the evolution of your consumers and non-consumers, but also to compare your perceived image at different periods. It's more than just numbers; effective consumer research can give you real insights that drive your success by answering pressing questions, such as:
What are the characteristics of your customers and non-customers?
What amenities do your current customers like vs. those that your potential customers would like?
Is the commercial entertainment you put in place effective?
What are the expectations of your visitors and non-visitors regarding their in-store experience?
Which competitor(s) threatens your strengths the most?
Will the opening of a popular store boost traffic in your catchment area?
Using the example of Decathlon Mantes, the store manager addressed these questions and implemented a concrete action plan to increase store traffic. When he realized that the lack of products was a hindrance, inventories were properly adjusted.
At Potloc, we understand your challenges and conduct geo-targeted market research to help you position your business in a competitive environment. Major international brands such as Decathlon, Auchan, and Salomon rely on Potloc studies to better understand their visitors and non-visitors. Our solution determines your level of awareness, the frequentation habits of the inhabitants and passengers of your catchment area, and your competitive dynamics. We evaluate your visitors' and customers' satisfaction with your price and service offerings and propose action levers to improve the customer experience.
Potloc helps you to boost the traffic in your business or store based on reliable and authentic data. To learn more about Potloc, visit www.potloc.com.
1 Procos Infos, « Baisse de fréquentation des points de vente, décrochage des chiffres d'affaires, déconnection avec les évolutions des loyers », La newsletter de la fédération pour la promotion du commerce spécialisé #47, Février 2022, https://www.procos.org/images/procos/images_page_d_accueil/Newsletter/Fevrier_2022/news_47_frequentation.pdf
2 Fevad, « Bilan du e-commerce au 2e trimestre : Le e-commerce maintient une dynamique positive avec des disparités entre secteurs », Fevad.org, 20 septembre 2022, https://www.fevad.com/bilan-du-e-commerce-au-2e-trimestre-le-e-commerce-maintient-une-dynamique-positive-avec-des-disparites-entre-secteurs/
3 La finance pour tous, « Baisse de pouvoir d'achat : une préoccupation croissante pour les Français », la financepourtous.com, 15 septembre 2022, https://www.lafinancepourtous.com/2022/09/15/baisse-de-pouvoir-dachat-une-preoccupation-croissante-pour-les-francais/
4 Kantar, « Movin'On : la mobilité vue par les jeunes générations », étude menée sur des 18-34 ans aux Etats-Unis, au Canada et en Europe, www.kantar.com
5 CA Mon Commerce, « Pourquoi et comment digitaliser son point de vente », ca-moncommerce.com, date de publication non mentionnée, www.ca-moncommerce.com