How to understand your non-shoppers and get them through the door
Non-shoppers represent the targeted clientele that currently does not visit your store. Understanding them is of the utmost importance, because these potential consumers have a lot to teach you about the reasons behind their absence. Trying to acquire new clients is a bottomless resource; here are three questions that will help you know where to start, and how to understand your non-shoppers.
How do I define a non-client?
Non-shoppers are different from occasional clients: the latter rarely frequent your store and non-shoppers have either never stepped foot in your business, or have definitively chosen to avoid it.
Of course, defining a non-client varies business to business. In wholesale distribution, a customer ceases to be counted among the current clientele after one month of absence. At a car dealership, clients only become non-shoppers after two years of desertion. Before adding a previous client to the non-client list, be sure to measure your clients' average frequency of purchase.
However, note that even though the vast majority of non-shoppers don't frequent your business, a small portion can still be found in your clientele — they just don't spend as much as you'd hope. Let's say Kiabi, the French ready-to-wear clothing brand, hopes to boost its line of women's products. If a female consumer routinely buys clothing for her husband rather than purchasing products that are designed for her, she should still be considered a non-client even though she is an active buyer. Make sure to find out why she isn't buying the products that are intended for her!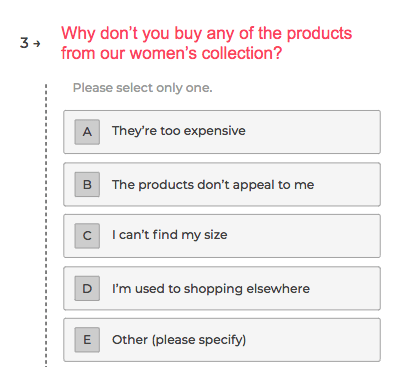 Are all non-shoppers as important?
Just like your clients, certain non-shoppers are more precious than others! Every brand aims for a specific target client. They are easier to reach, more profitable, and thus, more cherished. Seniors certainly still go to IKEA to buy furniture, but the effort it takes to purposefully attract that demographic is far superior to the effort that goes toward attracting a student or a young active person. A young active person, who is at the heart of IKEA's target clientele, purchases more, and more often. Their potential value is much higher than that of the senior. In the same way, clients who live close to your location have more value than those who reside outside of your catchment area.
A bit of vigilance is required if the main clientele evolves — non-shoppers will equally need to be reassessed. Following a change in positioning, Pimkie, the French clothing brand for young women, saw its clientele transform rapidly. In a mere two years, the primary clientele went from young teenagers to young women between the ages of 19 to 25. If the target shifts, the non-client profile must shift in turn; in this case, focusing on meeting the expectations of 19-25 year olds rather than dwelling on the shopping behaviours of younger women.
Do I need to adapt my company according to all of my non-shoppers' expectations?
Take for example an amateur athlete who doesn't shop at Patagonia because they find their products too expensive. Should Patagonia launch a lower-tier product line? Not necessarily. Competitive pricing is a big strategy for any retailer, however, Patagonia distinguishes itself by the quality of its products. The brand targets more experienced outdoor enthusiasts who are ready to pay the additional cost to have durable and resistant gear. Here, the brand's identity outweighs the demands of a non-client.
However, if this same consumer finds the prices at Decathlon equally too high, while this specific brand advocates for the democratization of sports, the consumer's opinion should be heard.
Remember there is a difference between non-shoppers and non-targeted clientele. This consumer is a non-client for Decathlon but isn't necessarily on Patagonia's non-client list.
Non-shoppers: a pillar in your growth strategy
Retailers have two cards to play if they want to grow: increase the current clientele's spending, or acquire new clients. During an acquisition strategy, no retailer should miss a chance to introduce themselves to non-shoppers and mingle with a new clientele. Do you want to find out why your non-shoppers aren't supporting you?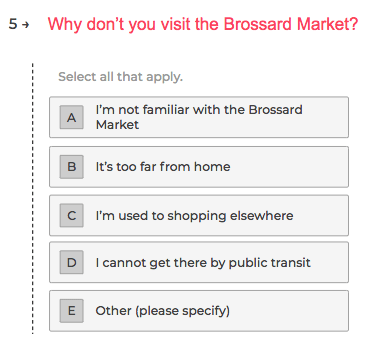 Discover how POTLOC surveys both shoppers and non-shoppers on their commercial habits.