Since then, the social media phenomenon snowballed its way into the new normal, and businesses gradually realized the potential hidden behind these networks, as the number of users grew exponentially. By the beginning of 2020, 3.8 billion individuals (and counting) are active social media users.
It's no coincidence that 50% of companies were using social media analytics for market research in 2019. Social media capabilities such as targeting users by location, interest, or any socio-demographic criteria, is what made it so accurate and cost-efficient.
For the last 6 years, Potloc has bet on social media to conduct consumer research in a hyper-targeted way. We know how it works inside and out, and we believe the future of consumer research is most definitely social. To prove our point, we'll share with you some stats that explain why you should consider it too.
The largest consumer group out there
On Instagram alone, there are 347.222 people scrolling through their feed per minute. Now think about the data generated while these people interact with social content…it's enormous! When we put all social channels together, they actually represent the largest consumer base there is in 2020.
Number of users
As of January 2020, 4.54 billion people are active internet users worldwide, and 84% of them were using social media.
The global penetration rate is 49%, which implies that almost half of the world's population is on social media. However, businesses must take into account that the penetration rate varies from one country to another if it ever wants to launch a study using social media targeting in multiple regions.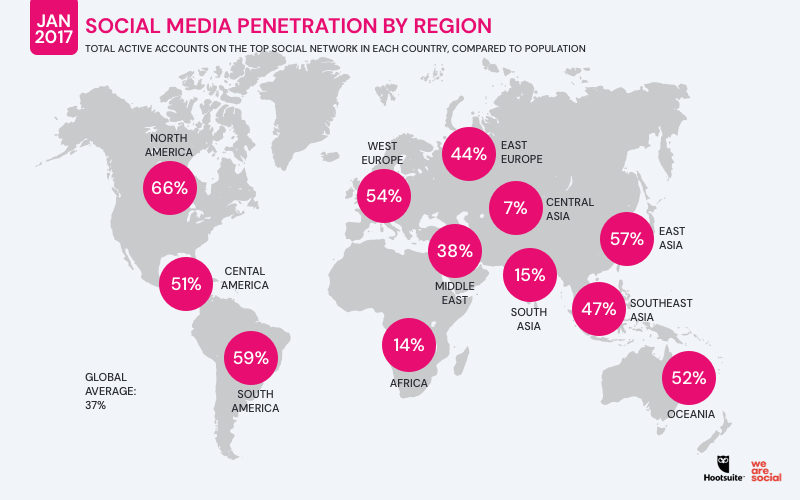 Evolution is evident since 2017. In 2020, in North America, 69% of the population is on social media, closely followed by Eastern Asia (70%). In the US alone, there were 246,7 million users in 2019 and 257.4 million are forecasted for 2023.
Time – Engagement
A massive number of users visit social media daily but how much time do they spend endlessly switching between Facebook, Snapchat, Tik Tok, and Instagram?
Let's look at the numbers:
Overall, this implies that 64% of the time spent on mobile devices is dedicated to social media.
Let's zoom in on the US. Americans spend 2h03m per day on social media. This is less than the global average but they still feel like they are expected to be aware of the information they receive instantly. This social pressure can explain why about 7 in 10 American adults report being online "almost constantly" (26%) or "several times a day" (43%).
However, researchers should take into account that the time people spend on social media varies from one platform to another. According to the Pew Research Center, people visit more often Facebook than Snapchat, followed by Instagram, Twitter, and Youtube.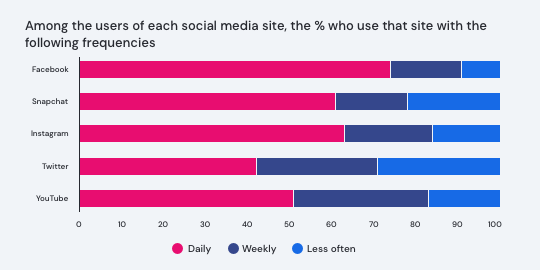 With enormous engagement across social platforms, reaching consumers where they are spending their downtime, is the perfect way to deliver surveys that reach them when they are more willing to answer.
Usage
What drives users to spend that amount of time on social media and how can businesses play along?
The GlobalWebIndex found the main reasons why people go on social:
Stay in touch (42%)
Stay up-to-date with events, news (41%)
Fill up spare time (39%)
Share their opinion (29%)
The last two reasons have interesting implications for businesses. Filing up spare time usually means that consumers are not busy with important matters, so they can be more reachable by companies when they are on social media, compared to street interviews for example (not to mention, it's a safer way to reach respondents in the middle of a pandemic).
Since 29% share their opinion on social media, companies should go there to initiate a conversation with their customers and understand better what they want. Particularly since consumers consider social media as the number one channel for this purpose.
However, they will more or less open up, depending on the discussed topic. Social Sprout revealed the topics brands should discuss, which makes consumers feel more connected to them.
Now, what does this mean when conducting consumer research for each department of your company?
It is well known that companies use massively social media for their marketing strategy. Social Listening is actually the number one tactic marketers use.
However, this channel shouldn't be limited to digital marketing purposes:
If you are in R&D and you are at the stage of designing a new product, running development testings, or creating products and services. Well, 68% of consumers are ready to talk about products and services, giving you insights on what they expect from your future offering.
Social media is also the place where users share a lot of brand-generated content. Whether they are entering a shop with a breath-taking merchandising and sharing it in their Instagram story, or inviting their friends on Facebook to your next brand activation or event, businesses stand to gain a lot by understanding what consumers like and share, what their pain points are, and take action to improve their customer experience.
What about the people you haven't converted as your clients yet? Compared to traditional methods, consumer research on social media allows you to know what your non-clients, and what the clients you've lost along the way think about your brand. This type of study offers more insights than social analytics since 96% of people talk about companies and brands on social media but aren't actively following those brands.
Studies show that these numbers concern all types of users regardless of socio-demographic profile. Even though people are driven by the same motivations, some variables influence their choice of platform and behaviors.
Social Media Usage, based On Users' Profiles
Regardless of your purpose for conducting consumer research, you must take into account different statistics to harness the power of consumer feedback via social data. Otherwise, you will put your business at risk, ending up with results nuanced by the diverse behaviors of different age groups and genders.
Usage per age group
Depending on the year when we came into the world, we weren't raised the same way and haven't lived the same journey. These differences also translate to social media usage. From the platforms we prefer to the way we behave with brands on these networks.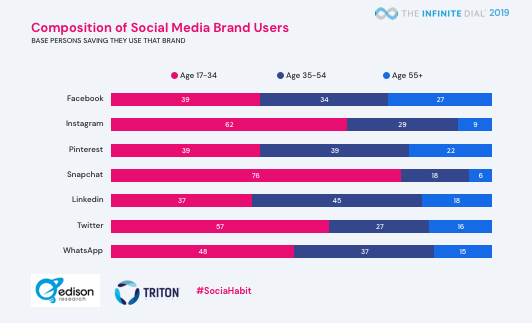 Gen Z
This generation is often the most challenging for marketers. Gen Z for example jumps between different networks during each step of their shopping journey. Generally speaking, they gravitate towards Instagram, Youtube, and Snapchat, with Facebook ending up in the 4th position.
It is not in their top 3 (yet) but we can't leave Tik Tok in the closet. This fun network where people share viral 15-second videos was the most installed app in Q1 2019. People aged between 16 and 24 years old represent 69% of Tik Tok users.
Members of Gen Z are the ones spending the most time on social media, accounting for 2h55 minutes per day. They also surpass Millenials in terms of social media accounts they own. Compared to older generations, they are less likely to interact with brands through social media.
Millennials
Regarding this demographic group, Facebook is in their top 3, along with Youtube and Instagram, and they spend around 2h38 minutes daily navigating their social feeds.
This generation is dedicating the most time to interact with brands. Nearly 4 in 10 American Millennials (38%) are providing at least weekly feedback to companies via social media channels.
The Social Bakers social media trends report shows that Facebook and Instagram, two of the most popular social networks are particularly good for marketing to millennial and Gen Z age groups. The peak usage of both Facebook and Instagram is in the key 25-34 age group which includes millennials.
Gen X
The "MTV Generation" mainly uses Youtube, Facebook, and Whatsapp, and spends on average 2h per day on social media, which is less than Millennials and Gen Z but more than Baby Boomers. They are more on par with technology adoption and use with millennials, and are more likely to stick with the platforms they know, which unsurprisingly means that nearly nine in 10 US Gen X social users are on Facebook. Just fewer than half are on Instagram, while Twitter and Snapchat remain the least popular with Xers.
Above 55 years old (Baby Boomers and the Silent Generation)
It is commonly perceived that people above 55 years old aren't that much on social media. Even though they are the least active compared to other generations, Baby Boomers are showing the greatest increase in activity on social media platforms these past few years, compared to when they were younger.
They massively use Whatsapp (59%) and Instagram (44%) compared to other generations. Many of them also use Facebook:
In terms of behavior, they post less on social media but they are more than twice as likely to engage with branded content than social media users who are 28 years old or younger. This makes them great candidates for consumer research when trying to understand older demographics.
Usage per gender
Whether you are studying female or male consumers (or both), bear in mind that there is an uneven share of social media users by gender. Women are more numerous on Snapchat (61%) and men are more present on Twitter (61%).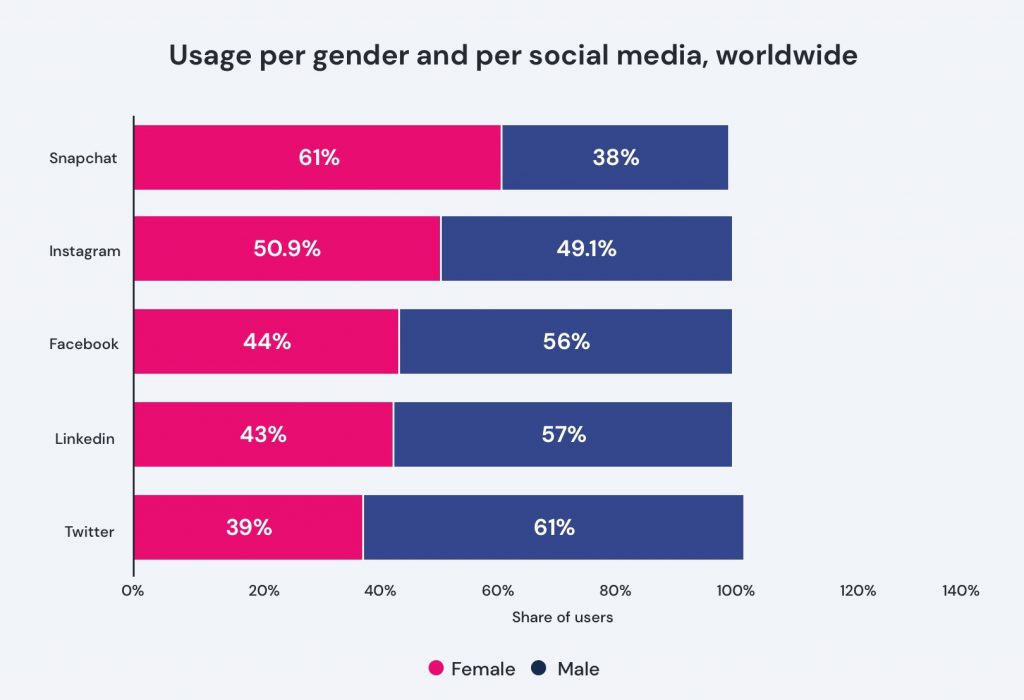 In America, 6 out of 10 users are women for every social network (except for Linkedin).
Also depending on the region, the repartition between men and women varies:

The advantages of conducting consumer research on social media
Many companies think that they can conduct consumer surveys via social media by themselves but it isn't as easy as it looks. Researchers must take the nuances into account – between different platforms and socio-demographic groups – to create a sample representative of the targeted population.
Our research team at Potloc has developed a methodology to compensate for the unequal composition of social media usage. We've developed our expertise by asking more than 6M questions through our surveys, and learned how to ask the right questions to the right audience.
Over the years, we harnessed three main advantages of social media consumer research, which are reachability, precise targeting, and data quality.
1. Reachability
We'll use Facebook to illustrate our point:
2. Targeting capabilities
Social media allows researchers and businesses to target consumers based on their socio-demographic profile, their location, and their interests.
Targeting by interest is at the heart of our studies since our mission is to give our respondents a voice. We reach them based on topics they care about, giving them the opportunity to voluntarily give us insights and feedback.
Geotargeting helps many of our clients make impactful decisions for their business, whether it is a retailer wanting to study a particular trading zone or a company trying to measure the engagement rate of a local campaign.
The capabilities of advertising portals on social media allow us to study a whole country, as well as niche populations like French video game players for example.
Consumers frequently use the Internet's geo-localization feature. Just Google alone has witnessed a +900% increase in "near me searches" between 2015 and 2017, and since consumers are showing more and more interest in their local offering, geotargeting is the perfect tool for consumer research that's trying to understand people based on their location.
3. Data quality
A major issue in the consumer research industry is data quality. Traditional consumer research techniques struggle to differentiate real respondents from the ones distorting the results, motivated to rush through the surveys to accumulate the rewards.
Since Potloc's questionnaires are non-incentivized and reach users concerned with the topics of our studies, we receive honest feedback which is then analyzed by our experts to provide quality insights for businesses.
What about fake social media profiles?
Social networks make sure to clean their database every now and then. Facebook, for example, removed 3.39 billion fake accounts in a six-month period. That's twice the amount of fake accounts deleted during the previous period of the same length.
However, this frequent Facebook cleanse might not be enough to receive quality answers to our questionnaires. This is why you need experts, who are able to clean the data and apply weightings to the sample when necessary and remove duplicates or responses from accounts that aren't legit in order to get a representative sample of the studied population.
The future of consumer research is social
Compared to traditional consumer research methods, social media allows companies to build relationships with consumers who are available to discuss topics that are crucial to the development of their business. Giving this important task to expert researchers that know how to do it, is essential to ensure the decisions you are making are the right ones for your bottom line. At Potloc, we've found a way to fully use social media advantages such as precise targeting capabilities and reachability. If you still doubt it, visit our website or talk to one of our consumer insights experts.