Headlines are announcing brand closures with a vengeance. We're living in a state of retail fearmongering, with claims that "retail is dying, we're living in the retail apocalypse: the greatest closures ever seen…" Media is pointing their fingers at eCommerce giant Amazon for cannibalizing retail sales and disruptive Millennials who will bury their local businesses in their shopping habits.
But what is happening to retail, really? POTLOC headed an investigation and the results are not as clear as headlines imply. In some cases, they diverge completely. If this media hype is driving retail anxiety, it does so without painting an accurate portrayal of the current commercial landscape. Pessimistic headlines gain more public traction and anchor themselves deeply into our consciousness. Surprised to see these articles multiply? We call that clickbait; welcome to 2018.
NEW COMPETITORS ON THE MARKET

According to estimations provided by the retail advisory firm IHL1 Group1, 14,248 points of sale are scheduled to open in the United States this year against 10,168 closures — resulting in an net increase of 4,080 new spaces. Effectively, the quantity of both openings and closures is extremely high. Deloitte2 suggests rising accessibility to technology is the source of this volatility. Superior tools at continuously lower prices are destroying barriers and opening the field to new players. While iconic brands go to the dogs, new competitors are making their debut on the retail stage. The handful of stakeholders that previously had a monopoly on the market are forced share their shares with smaller players, a phenomenon that has been accelerating since 2015.
Yes, Amazon plays an important role in the commercial landscape, but it isn't necessarily the mountain it's made out to be. With unrelenting advances on the market, the eCommerce giant took its competitors by storm, forcing direct rivals to either reposition themselves or leave the market altogether. On the other hand, Amazon is acting as a […] facilitator for smaller players by the nature of its platform and giving them a boost onto the retail stage.
Now that the distribution channel is no longer an obstacle to market access, these new federated players are coming in hungry for their shares, challenging historic players to fork over pieces of their pie.
RISING NUMBERS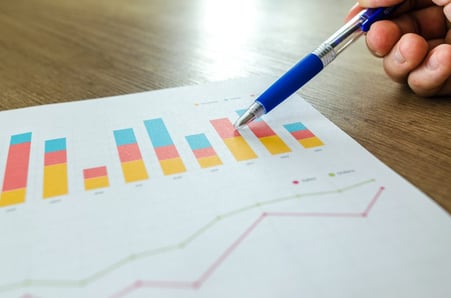 Between 2012 and 2016, the average annual number of physical (brick and mortar) retail stores rose by 1.3%, and online stores rose by an impressive 12.5%.
To complement this data, eMarketer3 made an even more optimistic prediction. When analyzing the retail market in the UK, the firm forecasted an increase of 4.1% in global retail market sales by 2021, reaching a net value of 622 billion dollars. 3.1
E-commerce sales alone are anticipated increasing by 26.9% by 2021 with a net annual growth of 8.5 billion dollars. E-commerce sales are growing much faster than in-store sales, but in absolute terms, because physical retail sales still account for 74.2% of total retail sales, its net growth is predicted to contribute to 42% of the total growth of the market.
In short, both of these distribution channels continue to be in good health and expand.
From the point of view of the consumer, The Great Retail Bifurcation analysis from Deloitte demonstrates that 44% of the surveyed population claims to have spent more in 2017 than in the previous 12 months. 41% claim to have maintained similar spending, and only 14% claim to have cut their spending over the last 12 months.
Where our "dangerous" Millennials are concerned, 60%4 say buying in-store is a pleasurable experience, according to a study conducted by the Observatoire Cetelem — more than any other age group. The International Council of Shopping Centers, ICSC, confirmed these statistics through an analysis of shoppers during the Black Friday Thanksgiving sales in the United States. During this two-day event, 67% of shoppers were 18-36, whereas only 32% were 53-71 years old5.
Retail's reign still has plenty of sunny days ahead. It is far from dead… Long live retail!
---
Sources :
1: 9 things to watch for in the coming year, Emarketer, octobre 2017
2: Deloitte retail volatility report, 2015
3: eMarketers Estimates for 2017-2021,
3.1: Données brutes
4: Fashion Network, février 2018
5: ICSC, Industry Insights, novembre 2017