Potloc Study: Canadian health workers share their insights from the front lines of the COVID-19 pandemic
At Potloc, we wanted to give a voice to the brave health workers who are in the front lines of the COVID-19 outbreak.
We are releasing data from a study conducted in partnership with the Canadian Public Health Association, in which we surveyed 578 health workers attending the COVID-19 crisis in Canada. The result is transparent, live and localized data that the general public, journalists, health professionals, and the government can use to inform their decisions. Using interest-based and geotargeting capabilities by profession, we were able to reach front-line workers through social media platforms, and extract firsthand accounts of what they are experiencing in the battle against the outbreak.
We wanted to give a voice to those brave workers who are keeping us safe day and night, risking their own health to vanquish the pandemic. We decided to partner with the Canadian Public Health Association and use our research methodology to safely reach people via social networks at the places that no one else can enter. The fact that 47% of health workers express their need for psychological support is eye-opening, so we wanted them to be heard, said Rodolphe Barrere, CEO at Potloc.
The study anonymously surveyed health workers about their level of preparedness and what resources they need to tackle the pandemic, their perception of the government's response, their recommendations to the general public, and their personal accounts from the front-line, among other subjects.
Key quantitative insights of the study include:
47% of surveyed health workers say they need psychological support, followed by training (45%) and additional medical staff (40%);
More than half (55%) of health workers surveyed feel that they still have the situation under control but they might soon be overwhelmed;
Overall, respondents do not feel that they are sufficiently prepared to handle the current situation (2.7 on a 5 point scale);
Respondents mostly associate negative feelings with their current work situation: anxious (67%), unsafe (49%), overwhelmed (40%), helpless (29%), sleep-deprived (28%) and discouraged (28%);
Health workers are unsatisfied with the general public's behaviour during the outbreak (2.5 on a 5 point scale).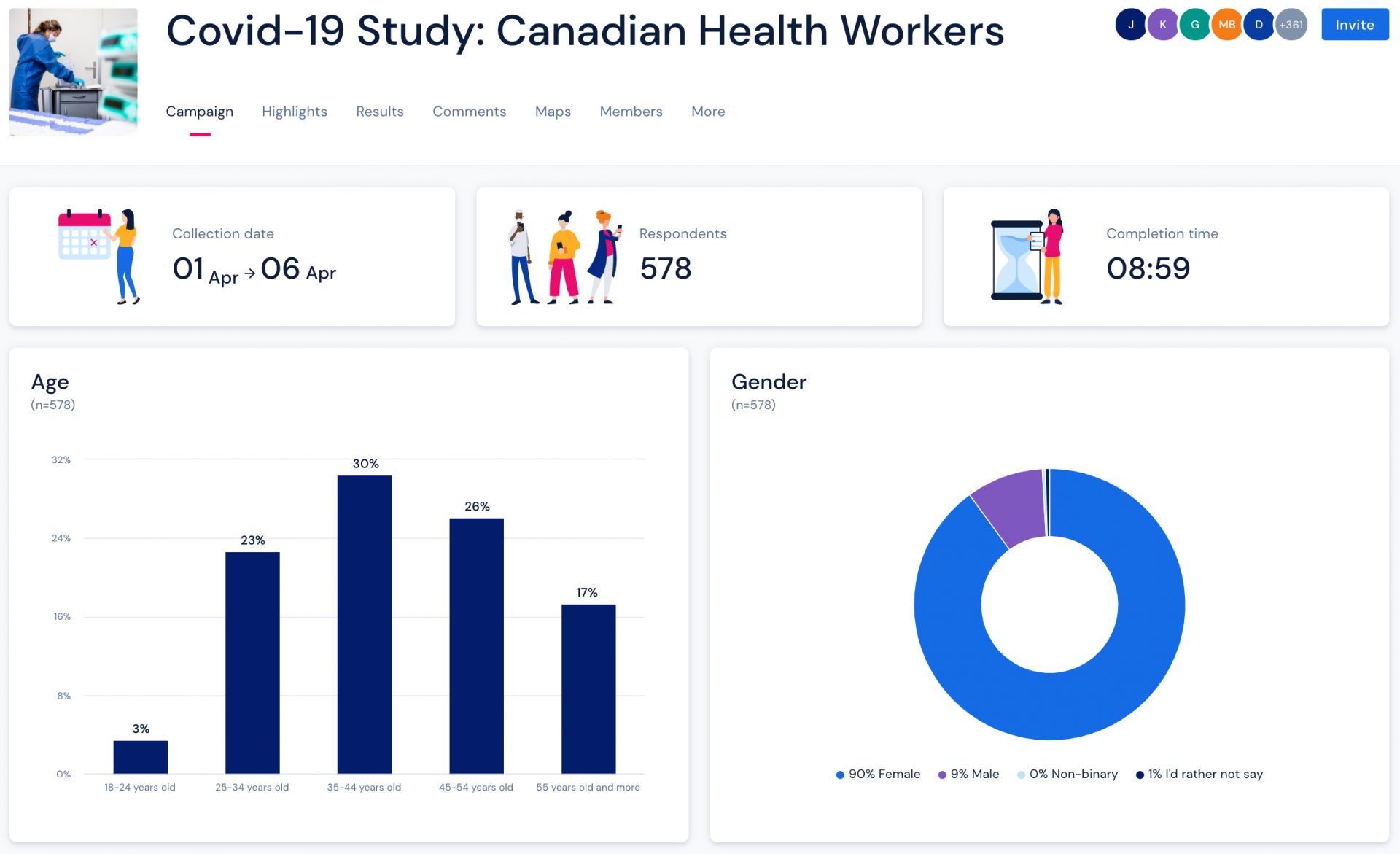 The survey also includes over 3,000 qualitative in-depth replies to open-ended questions that give a unique view on what health workers are seeing and feeling in the front line of the COVID-19 outbreak. Topics include accounts of their daily life at work, suggestions to improve government and public response, and things the general public can do to help, among others. Here are a few examples: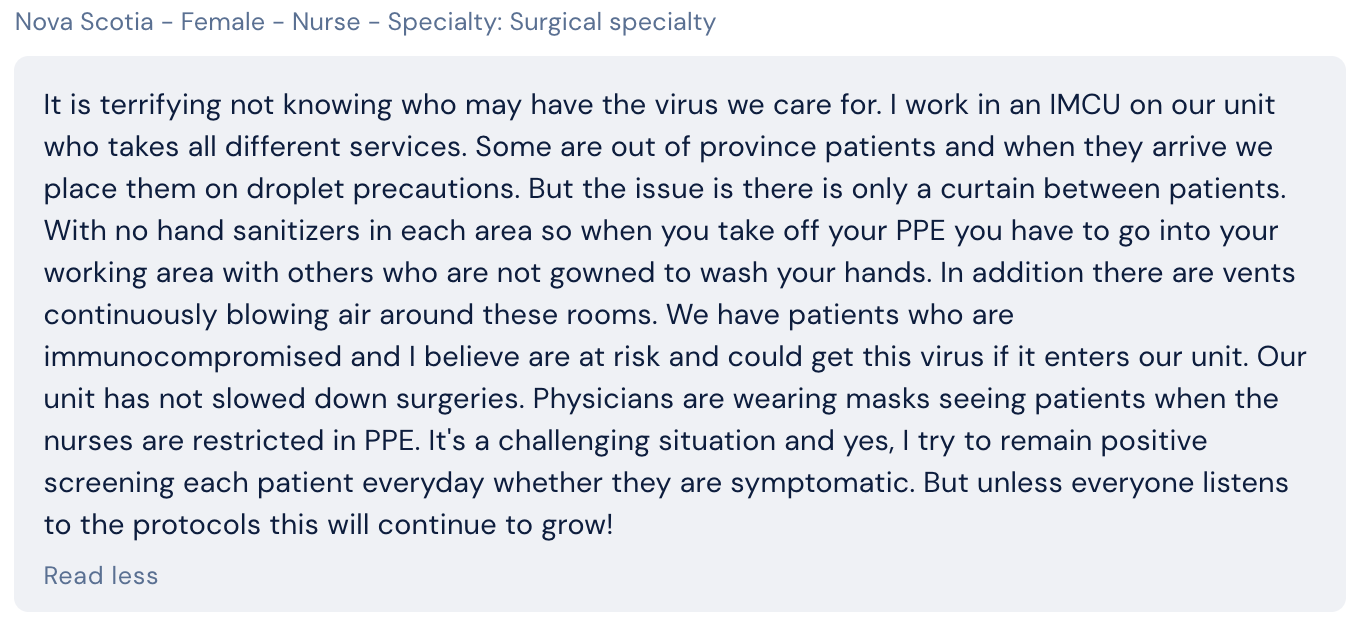 Says Ian Culbert, Executive Director of the Canadian Public Health Association:
Health workers are feeling anxious, unsafe, and overwhelmed on the front lines of the COVID-19 crisis, yet they took the time to share their insight into the health system's response and it is vitally important that we listen. While hospitals are still able to adequately respond to the influx of COVID-19 patients, we ought to take heed and provide health workers with the resources and support that they require to effectively do their jobs.
Potloc is making the data available to journalists, government organizations, and the general public via their interactive dashboard, upon request. The dashboard allows users to see splits by region, generate charts, see long-tail commentary, and manipulate the data for cross-tabulation. To gain access to the study, please submit your request via this link.
The CPHA will circulate the study results to government officials to help inform their decision-making processes.
See coverage of this story at the Toronto Star here