POTLOC IS REINVENTING ITSELF
It all started with a game.
In 2014, Rodolphe Barrere and Louis Delaoustre liked to predict the survival or death of businesses in their neighbourhoods. Within a short time, they were almost always correct in their predictions: local consumers understand their neighbourhood's challenges better than anyone. Rodolphe and Louis had discovered the power of hyperlocal intelligence.
Very quickly, the two co-founders felt the urgent need for retail professionals to forge stronger bonds with their customers.
Since then, Potloc has developed technology that questions local consumers about their habits and consumption needs.
Potloc was born!
In 2018, Potloc is comprised of a team of 37 experts in 4 cities in France and Canada.
Some 200,000 people surveyed and 3.3 million dollars raised later, the company's rapid growth has lead it to contemplate its future.
POTLOC: listening to communities.
The business of tomorrow will be co-created and continuously adapting to its community. In an era of perpetual change, POTLOC is the player that identifies these communities' needs through its cutting-edge consumer-research technology.
With this new identity, we, POTLOC, strengthen our belief in the power of communities. We are able to provide solutions to the problems faced by retail professionals.
This belief has always been at the heart of the POTLOC adventure. We want to democratize and systematize the dialogue between brands and their community to co-create the future.
POTLOC is the link that enables businesses to focus on their community's needs by giving it a voice.
We identify what communities have to say through automation so that retail professionals can focus their resources on implementing solutions.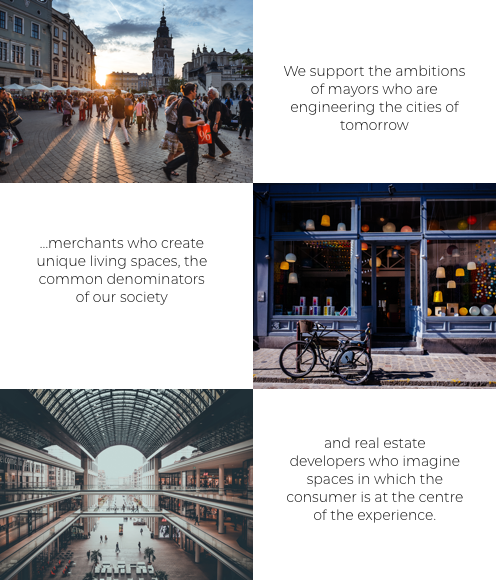 POTLOC initially focussed on small retailers, and has moved to larger companies that deeply transform the lives of their customers, like Loblaw and Decathlon, large municipalities like the cities of Montreal or Beauvais and influential shopping centre management companies like Alterea Cogedim or Cadillac Fairview.
But nothing stays the same forever. In a world where consumer habits are ever changing, our technology is constantly evolving to embrace these changes and to meet the needs of new players.
All this is possible thanks to a team of engineers and marketers passionate about the future, technological innovation and collective intelligence. At Potloc, we are guided by our values: transparency, innovation, learning, ambition and team spirit. We strive to embody them and use them as tools to grow.
Goodbye to the red bubble.
The red bubble from which a city emerges has played a vital role in our company's growth thanks to its jovial and unifying message. However, our image needs to evolve to better reflect our technological development in the service of communities.
To meet this new reality, the friendly red bubble takes a new direction.
If you don't immediately recognize the suggestion of an ear, perhaps these two circular arcs evoke complementarity, inclusion or connection between a brand and its customers.
This coloured visual, created by the Octave X Oscar agency, reminds us of the diversity of people, of places and stories to tell. It is simpler and more modern than our old logo, while being more inclusive.
We hope that you will like it as much as we do!
This change of identity is cause for celebration. We would like to thank and celebrate all the citizens, municipalities, merchants and real estate developers who have participated in this adventure with us. We welcome those who will co-build the future with us!