Experiential retail is revolutionizing the industry… and has been for decades
People don't just shop anymore. They want to live an experience. It isn't just a buzzword: commercial streets and shopping centres are increasingly shifting towards experiential retail.
There's an ongoing joke that there are more submarines in the West Edmonton Mall than in the entire Canadian navy. The biggest mall in the country remains the largest tourist attraction in Alberta—even surpassing Banff! Since its construction in 1981, it has grown to hold amusement parks, hotels, and the second largest indoor water park in the world. It even hosts special events such as an indigenous culture festival and a comedy fest, friendly dog races, video game competitions, hockey games, and more.
In Québec, the Galeries de la Capital shopping centre sets itself apart with indoor rollercoasters. In Montreal in the '70s and '80s, the Alexis Nihon Plaza and the Desjardins Complex each hosted popular TV shows like the Donald Lautrec Show and Boubou dans le Métro.
"Experiential retail wasn't invented yesterday," comments Léopold Turgeon, CEO of the CQDC (Quebec retail council). "I've seen Celine Dion perform in shopping centres. The Quartier DIX30 was built around experiential retail."
Commercial arteries in big cities are reacting to the competition centres like DIX30 and other premium outlets are creating. On St Denis Street in Montreal, a massive one-kilometre red terrace was installed so customers wouldn't be deterred during road works. On Mont-Royal, the SDC affiliate, Odace, has been an incubator for experiential initiatives: benches in the shape of giant bananas, street festivals, poetry contests, photo exhibitions, open-air cinema nights, public BBQs in the parks, Halloween parades, ephemeral art shows … some of these public events attract 100,000 people a day.
On Saint-Hubert, the new marquee will cost $55 million. Its Atmosph'air sur la Plaza festival attracts record-breaking crowds—undoubtedly thanks in part to the artists they invite to perform. "Our businesses and clients are asking for an encore," Mike Parente says, general director of the SDC for the Saint-Hubert Plaza. "If we didn't plan another festival, there would be complaints. Some people even plan their vacations around our events!"
There needs to be more than customer traffic. "We aren't just a shopping area. We are a socio-economic space, a place where people can exchange and unite," Parente says.
"After home and work, consumers need a third living space," comments the media site The Business of Fashion.
Offering an experience
Experiential retail is a worldwide phenomenon. Ivanhoé Cambridge, a subsidiary of Caisse de dépôt et placement du Québec, will soon launch 2 200 square metre (24 000 square feet) family-friendly entertainment centres in collaboration with Cirque du Soleil. These centres will allow consumers to "put themselves in the shoes of a circus artist," through acrobatics, parkour, trampolines, juggling… The first will open in Toronto in September.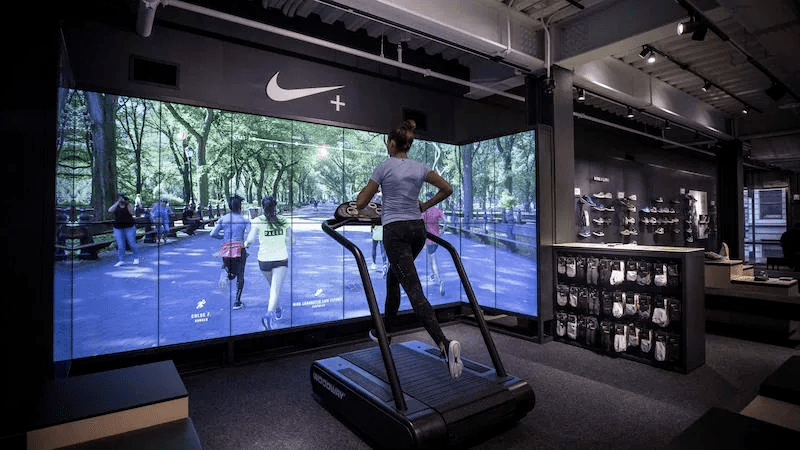 source: http://www.mbadmb.com/wp-content/uploads/2017/01/Nike_Running_Trial_Zone_hd_1600.jpg
Westfield, the British shopping centre chain, dedicates entire areas to family spaces and open-air activities. The Mall of the Emirates in Dubai is famous for its indoor ski centre. In the United Sates, the 90 biggest malls spent over $8 billion USD in renovations in four years, enhancing their shopping centres with children's theatres, cooking centres, bowling alleys, arcades, billiard rooms, indoor rock climbing walls, lounges for Uber clients, and, notably, stages for concerts and shows. Since 2012, 13% of the real estate within American malls has nothing to do with shopping.
Shopping centres that offer entertainment, childcare or high-end dining achieve the highest sales. According to the magazine Campaign, a successful business is more akin to a cinema. "Book stores should be, above all, cafes," The Guardian recently wrote.
It isn't just shopping centres: businesses need to get involved, too. "In hosting after-work happy hours; conferences; educational workshops; inviting experts, instructors, chefs, designers—by giving back to the community that supports their livelihood as a business. They can't just play music anymore. They need a wow factor," says Léopold Turgeon.
Ferocious Competition
Everywhere, we're fighting tooth and nail for consumers. Last year, the neighbourhood newspaper Pamplemousse. ca identified 30 empty storefronts out of the 454 on Mont-Royal Avenue (a 6.6% vacancy rate) compared to the 29 vacant locations out of 313 at DIX30 (9.27%).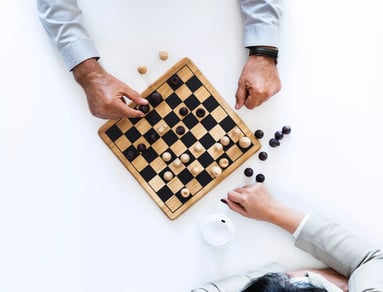 To top it off, online shopping is wreaking havoc. By 2022, one in four American shopping malls will have disappeared, according to Time magazine. In 2017, over 8,000 stores closed in the United States. In 15 years, American retail lost half a million jobs. In the same amount of time, online commerce created 178,000 jobs … but not in retail. Ironically, Amazon, an industry icon that sold over 100 million products during its last Prime Day event, built a 80,000 square metre shipping centre—on the same grounds the Randall Park Mall used to occupy in Ohio, which was once the biggest shopping centre in the world. Amazon is also launching physical stores. In fact, 67% of e-commerce businesses that made more than $6 million USD after their first 36 months are opening brick and mortar stores, according to Hero.
Regardless, retail is still in good shape. In 2016 and 2017, retail grew by 6% in Quebec, and by 4.3% since January (comparatively, retail increased by 4.1% in the US in 2017).
Lastly, as transportation companies like Bixi and Uber grow, fewer and fewer consumers will need parking, which typically occupies 30–40% of a shopping centre's property. With parking lots shrinking, experiential retail has more room to grow.
Stéphane Desjardins